/
Trentodoc
Pas Dosè
Riserva 111
/
Pedrotti's wine passion results in a trentodoc full of history and modernity
Riserva 111 is the emblem of a wine passion that moves forward into the future without neglecting the past. Passion - the key of the entire Pedrotti's production - becomes a symbol in this spumante. 111 years passed between 1901, when the great-grandfather Emanuele started its experience in the wine world, and 2012, when this product was launched. 1+1+1, so 3 are the descendants who currently run the business, each one with his own personality but all with a common intent: producing quality wines with great passion. The production of Riserva 111 is limited to few bottles; this spumante is very elegant thank to the blend of Chardonnay and Pinot Noir without dosage. The long maturation on the yeasts for 6 years, in the stillness of the cave, lends to the wine a strong structure and character; Riserva 111 is a spumante suitable for any dish.
Grapes

90% chardonnay
10% pinot noir

Length of ageing

72 months on the yeasts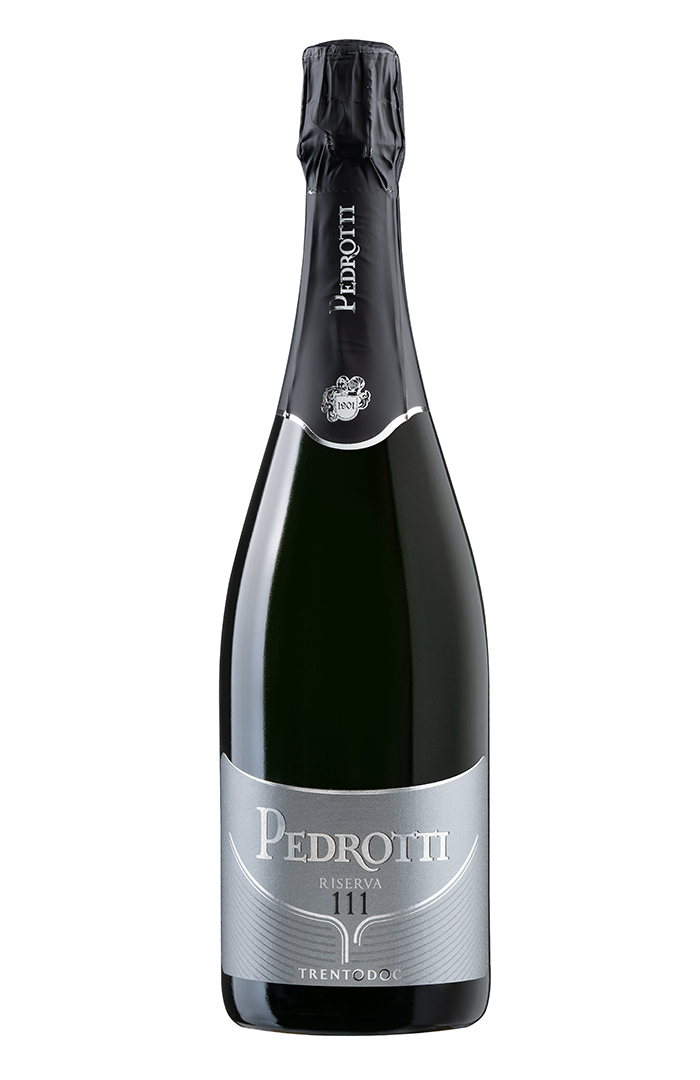 Color

Shiny straw yellow with golden tinges.

Perlage

Very fine and persistent.

Bouquet

Strong, complex and fine; fruity; notes of hazelnut and renetta apple; the fragrance reminds us of bread crust, mother yeast; excellent minerality.

Taste

Dry with a pleasant sour hint. Savory, well-balanced, persistent.
Alcohol

12,5 %

Residual sugar

0 grams/liter.

Kind of production

Metodo classico, at least 6 years of maturation on the yeast, no dosage.

Sizes available

750 ml
Food&Wine pairings

Suitable to accompany any meal; perfect with traditional fish dishes, medium-hard cheese, quails or rabbit.

Serving temperature

8 – 9° C
Download
the product data sheet